Yaima is produced and bottled by Vina Tinajas located in the Maule Valley 160 miles south of Santiago, the capital of Chile. The grapes grown here are world-renowned for their proclivity to produce award winning Cabernet Sauvignon.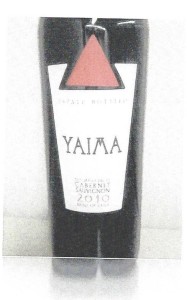 Varietal: 100% Cabernet Sauvignon
Viticulture and Vinification: The Cabernet Sauvignon grapes grown to create Yaima come from the estate vineyard, Fundo Lagares del Maul located in Villa Alegre at the foothills of the Andes Mountains. Here the significant temperature difference between day and night creates wines that are deep in color with intense aromas. It is from this vineyard that select Cabernet Sauvignon grape clusters are harvested at their peak of flavor, vinified and bottled.
Tasting Notes: This vibrant fruity expression of Cabernet Sauvignon has succulent flavors of black and red currents, an intense and rich luscious complex nose and a juicy fruit driven palate, medium bodied with a pleasant acidity.
Serving Suggestions: Excellent with pasta, turkey or veal as well as the perfect companion to hearty cheese.