Vergelegen's wine-making philosophy is simple: There must be harmony between the old and the new.
Vergelegen New World Winery of the Year, Wine Enthusiast Magazine, 2005
Vergelegen – Consistent 90+ ratings, "In my notebook, this is South Africa's single finest producer." Stephen Tanzer's International Wine Cellar, March 2005
Champion of Biodiversity, South African Biodiversity and Wine Initiative, 2005
Best Winery, Wine Magazine (South Africa), 2004, 2005, 2006
Best Winery, South African Trophy Wine Show, 2002, 2003, 2004, 2005
BIODIVERSITY AND WINE INITIATIVE PROGRAM
The Biodiversity and Wine Initiative (BWI) was initiated in 2004 when Vergelegen began investing in its future through sustainable farming and rehabilitation of the estate.
The Vergelegen Estate is home to various species of animals – many of whom were on the verge of extinction. In the early 1800's there were only 17 Bontebok antelope left in the wild due to overhunting. Today Bontebok antelope make Vergelegen their home.
As a result of its outstanding environmental practices, the Cape Mountain Leopard have returned to Vergelegen together with Honey Badgers and Lynx.  Vergelegen is proud to be one of the many supporters of the Cape Leopard Trust.
Vergelegen was the first producer to be awarded BWI 'Champion' status in March 2005.
"Vergelegen DNA 2012, Outstanding
"Always a Bordeaux-style red blend, in 12 cab franc-led with 2 partners. Long skin maceration, 18 months all new French oak results in vivid fruit, nuances of wood shavings & underbrush & as expected, deep muscle tone for ageing." Platter's Guide to South African Wines 2016"
Vergelegen DNA 2011, Rated 91
"Good deep red. Lovely claret-like energy to the aromas of musky red currant, graphite and tobacco leaf. Lush, sweet and fine-grained but with excellent framing energy and lift to the intense flavors of currant, plum, mocha and smoky oak. Finishes with very suave, fine tannins and slowly building length…" Stephen Tanzer, International Wine Report, 2015
Vergelegen DNA 2011, Outstanding
"… Finesse & fine crafting show in 11's perfect balance between oak & fruit, cedar & red berries, a whiff of fennel. Streamlined with deep muscle tone, a long future ahead".
Platter's Guide to South African Wines 2016
Vergelegen DNA 2011, Gold Medal Winner
San Francisco International Wine Competition 2015
Vergelegen DNA 2011, Silver Medal Winner
Lyon Wine Competition International 2015
Vergelegen DNA 2010, Outstanding
"Cab franc leads merlot & cab in serious nod to Bordeaux, with 10's 100% new French oak, the elegance, restraint. Lead pencils, herbaceous whiffs, opening up in the glass to plush red berries. Seamless, polished, great finesse." Platter's Guide to South African Wines 2015
Vergelegen DNA 2009, Outstanding
"Cab Franc leads in serious nod to Bordeaux. Youthful 09 plusher, better integrated, more accessible than stern but vibrant…"Platter's Guide to South African Wines 2014
FLAGSHIP RANGE:

Vergelegen "V", 2011, Rated 93
"Good deep bright red. Explosive truffley perfume to the complex aromas of cassis, licorice, violet…has a texture of liquid silk…finishes with noble tooth-saturating tannins and outstanding persistence." Stephen Tanzer, International Wine Report 2015
Vergelegen "V" 2011, Outstanding
"…100% cab with 23 months all-new oak…tightly knit…Cigar box & blackcurrants, lead pencils, firm but ripe tannin as foundation." Platter's Guide to South African Wines 2015
Vergelegen "V" 2008, Rated 91
"Bright, dark red-ruby. Aromas of black raspberry, mocha, licorice, tar and bitter chocolate are sweetened by sexy oak and accented by a light herbal element. Juicy and penetrating on the palate, with a powerful spine of acidity giving terrific cut to the currant, blackberry, licorice, mint and tar flavors. Strong tannins give grip to the finish…" Stephen Tanzer, International Wine Report, 2013
Vergelegen V, 2005, Outstanding
"Striking violets/black berry fragrance, spicy oak, deep and rich without overt heaviness…" Platter's Guide to South African Wines 2009
Vergelegen V, 2001, Rated 92
Vergelegen's ultra-premium cuvee is tightly structured, harmoniously balanced, built to age…plenty of underlying cassis, tobacco and chocolate to make this a keeper…" Wine Enthusiast September 2006
Vergelegen V 2001 Superlative
"…dramatically different to 'terroir-driven' style. Not for the oak-averse; luxurious black plum/cassis lashed with wood…densely layered fruit is waiting to unfold over the next 5 – 10 years…" Platter's Guide to South African Wine 2005
Vergelegen G.V.B. Red 2011, Rated 93
"Cabernet Sauvignon-dominated, with 20% Merlot and a splash of Cabernet Franc for support…It's a bold, age-worthy wine that's both ripe and focused, with good underlying acidity and structure." Tim Atkin, Wine Report 2015
Vergelegen G.V.B. Red, 2011, Rated 92
"Knockout nose combines cassis, black raspberry, mocha and cedar. Plush super concentrated, broad and sweet; an utterly silky, seamless wine with outstanding depth of texture. Finishes with huge but utterly suave tannins and superb length." Stephen Tanzer, International Wine Report 2015
Vergelegen G.V.B. Red 2009, Outstanding
"Masterly Bordeaux blend always fine & dry with measured tannic grip. Cab dominant in 2009, with merlot, cab franc. Cassis & Morello cherries, cedar dusting…"Platter's Guide to South African Wines, 2015
Vergelegen G.V.B. Red 2007, Rated 92
"Good bright, dark ruby. Super ripe aromas of black raspberry, coffee liqueur, chocolate and mocha. Broad, concentrated and sweet, with flavors of dark berries, spices and cocoa powder complemented by salty minerality…" Stephen Tanzer, International Wine Report 2013
Vergelegen G.V.B. White 2012, Rated 95
"GVB stands for Grand Vin Blanc…this blend of Semillon with 44% Sauvignon Blanc certainly lives up to its label…smoky, toasty complexity, herbal freshness and a stony, tangy, struck match like finish." Tim Atkin, Wine Report 2014
Vergelegen G.V.B. White 2011, Rated 93
"This is the estate's flagship white wine…Bright, pale silver-yellow. Knockout nose melds lime blossom, grapefruit, ginger and white pepper. Dense, plush and rich, combining a distinctly refined, smooth texture with explosive inner mouth lift and tensile strength. The very pure, perfumed, rising finish is like an infusion of dusty herbs and flowers…" International Wine Report, Stephen Tanzer, 2013
Vergelegen G.V.B. White 2011, Silver Medal Winner
International Wine Challenge 2013
Vergelegen Flagship White, 2006
"Aromas of lime, mineral, stalk, lavender, and honey; ripe notes of citrus and stone fruit on the palate along with licorice, almond, and wood. Medium bodied with a long, balanced, tart finish." Sante Magazine
Vergelegen Flagship White, 2004 Rated 90
"Beautiful aromas…the nose is spicy with a minerally edge…exhibiting lovely layers of spicy sweet orange and peach…the mouthfeel is substantial…" Wine Enthusiast July 2007
RESERVE RANGE
Vergelegen Cabernet Sauvignon Reserve, 2009 Rated 91
"Deep, complex, moderately herbaceous nose melds plum, mocha, woodsmoke, truffle, cedar chips and herbs. The wines deep, rich, thick fruit shows an almost syrupy character but peppery herbs keep the palate firm and fresh. Finishes with substantial but beautifully refined tannins and outstanding energy and depth." Stephen Tanzer, International Wine Report, 2015
Vergelegen Cabernet Sauvignon Reserve, 2008 Outstanding
"Exquisite spice, cedar & lead pencil 2008, with dashes Merlot, Cabernet Franc…with seductive fruit, stately tannins." Platter's Guide to South African Wines 2009
Vergelegen Cabernet Sauvignon Reserve, 2007 Rated 90
"Dark, bright red. Deeply spicy aromas of cassis, chocolate, mint, mocha and sassafras. Ripe but classically dry, showing excellent breadth to its dark fruit and spice flavors. Finishes with substantial dusty tannins and very good length…" Stephen Tanzer International Wine Report 2013
Vergelegen Cabernet Sauvignon 2007 Reserve, Gold Medal Winner
International Wine Challenge 2013
Vergelegen Merlot Reserve 2012, Rated 92
"…Leafy, floral, yet showing tannic structure and concentration, this is one of the Cape's most appealing expressions of a difficult grape." Tim Atkin, Wine Report 2015
Vergelegen Merlot Reserve, 2011 Outstanding
"Consistently one of the Cape's finest…creamy plums, Belgian chocolate, slight dusting white pepper, a lesson in harmony, the perfect balance makes it enjoyable…"Platter's Guide to South African Wines 2015
Vergelegen Merlot Reserve, 2010 Rated 90
"Currant, plum, spice cake and tobacco on the sweet, expressive nose…Supple, suave and fine-grained, with good density…flavors of red currant, plum and sweet, spicy oak. Finishes long and sweetly tannic, with good depth of texture…lingering savory notes of wood smoke and herbs." International Wine Report, Stephen Tanzer 2013
Vergelegen Merlot Reserve, 2007 Outstanding
"Stunning…dark-berried fragrance; elegant, silky layers trimmed by ripe, fine tannin." Platter's Guide to South African Wines 2011

Vergelegen Shiraz Reserve, 2013 Rated 91
"…this is a full-bodied style that shows classic Shiraz notes of potpourri, rose petal and spice with soft red fruits and support from 25% new oak." Tim Atkin, Wine Report 2015
Vergelegen Shiraz Reserve, 2012 Outstanding
"Black pepper, red berry perfume, hint of scrub…shows lovely ripeness, round, smooth & succulent…harmonious…Savory spicing a nice counterpart to the plush berries." Platter's Guide to South African Wines 2015
Vergelegen Shiraz Reserve 2007, Gold Medal Winner
International Wine Challenge 2013
Vergelegen Shiraz Reserve 2007, Rated 89
"Sexy, expressive aromas of blackberry, bacon fat, woodsmoke and pepper. Supple, pliant and easygoing, with nicely integrated acidity framing the moderately deep berry and smoked meat flavors. In a distinctly forward style, finishing with attractive sweet persistence." International Wine Report – Stephen Tanzer 2011
Vergelegen Chardonnay Reserve, 2013 Rated 93
"Entirely fermented in lightly toasted barrels, half of which are new…Floral, smoky and complex, it has delightful texture and weight, citrus-like acidity and notes of lemon butter and cinnamon." Tim Atkins, Wine Report 2015
Vergelegen Chardonnay Reserve 2013 Rated 91
"…Explosive aromas of nectarine, lime, flowers and spices, plus a subtle hazel-nutty leesy nuance. Unctuous and saline yet brisk, offering a seamless texture and serious underlying structure. A touch of sweetness…is nicely countered by brisk, lively acidity…" Stephen Tanzer, International Wine Report 2015
Vergelegen Chardonnay Reserve 2013, Gold Medal Winner
San Francisco International Wine Competition 2015
Vergelegen Chardonnay Reserve2013, Gold Medal Winner
International Wine Challenge 2015
Vergelegen Chardonnay Reserve, 2006 Rated 89
"A comforting nose of vanilla toast, butter and a spin of citrus starts this venerable producer's elegant Chardonnay. On the palate, the wine is creamy, with integrated fresh fruit and spice components, and offers a lingering, unctuous finish." Wine Enthusiast, March 2009
Vergelegen Sauvignon Blanc Reserve 2015, Gold Medal Winner
San Francisco International Wine Competition 2015
Vergelegen Sauvignon Blanc Reserve, 2015, Gold Medal Winner
6 Nations Wine Challenge 2014
Vergelegen Sauvignon Blanc Reserve 2014 Rated 92
"…aromas of soft citrus fruits, orange blossom, minerals and complex lees…rich and plush but with a firm vein of acidity and minerality giving the wine a solid backbone for aging…builds on the back end, finishing savory, broad and long. This is routinely one of South Africa's finest Sauvignon Blancs." Stephen Tanzer, International Wine Report, 2015
Vergelegen Sauvignon Blanc Reserve 2014 Outstanding
"…Signature minerality, oyster shell tones…just right acidity…distinctive, classic and classy." Platter's Guide to South African Wines 2015
PREMIUM RANGE


Vergelegen Cabernet Sauvignon – Merlot 2011, Rated 90
"Impressive for an entry level red, this is made entirely from new, non-virused clones and also includes a little Cabernet Franc, Malbec and Petit Verdot. Elegant, grassy and refreshing, it's a Cape claret in all but name." Tim Atkin, Wine Report, 2015
Vergelegen Cabernet Sauvignon – Merlot 2011, Rated 89
"…Cranberry, tobacco, dried flowers, orange peel and a cedary perfume…Not a plush wine but very nicely concentrated…Finishes with firm tannins and excellent length." Stephen Tanzer, International Wine Report, 2015
Vergelegen Cabernet Sauvignon – Merlot 2010, Excellent
"…highly perfumed with lavender, plum…soft & rounded for easy drinking with friends." Platter's Guide to South African Wines, 2015
Cabernet Sauvignon – Merlot – Cabernet Franc 2009, Rated 90
"Containing the highest ever percentage of Cabernet Franc (24%)…Leafy and minty, with undertones of dried herbs, and sweet tannins…eminently drinkable." Tim Atkin, Wine Report, 2013

Vergelegen Shiraz 2011, Excellent
"Black pepper…red fruit…Succulent, streamlined & misleadingly accessible…" Platter's Guide to South African Wines 2015
Vergelegen Shiraz 2010, Rated 90
"…this is meaty and quite serious…with fresh acidity, firmish tannins and a peppery, smoky flourish." Tim Atkin, Wine Report, 2013
Vergelegen Shiraz 2009, Excellent
"Peppery notes…supple & light textured with sufficient body for winter warming; lovely dry tail & tannic tug…" Platter's Guide to South African Wine 2013
Vergelegen Chardonnay 2013, Rated 91
"…this appealing Chardonnay is tank fermented to preserve its fruit flavors of melon and pear. The oak is deftly integrated…supported by refreshing acidity…adding to the mouthfeel and balance." Tim Atkins, Wine Report 2015
Vergelegen Chardonnay 2013, Rated 90
"Pale-medium yellow. The perfumed aromas and flavors of apricot, nectarine, orange and nutmeg show a wild leesy character. Lovely intensity and depth to the wine's sweet fruit, but this Chardonnay is ultimately dry and classic…" Stephen Tanzer, International Wine Report, 2015
Vergelegen Chardonnay 2013, Excellent
"Only part oaked to showcase the fruit flavors…orange/lemon & buttered toast…Elegant…" Platter's Guide to South African Wines 2015
Vergelegen Chardonnay 2012, Rated 89
"Sexy, subtle aromas of lime blossom, Mirabelle, white pepper and quinine. Supple and vibrant on the palate, with harmonious acidity giving shape to the white peach, citrus fruit, herb and spice flavors…" Stephen Tanzer, International Wine Report 2013
Vergelegen Chardonnay 2011, Excellent
"Masterly lemon-vanilla touches…like lemongrass…. for food or solo." Platter's Guide to South African Wine, 2013
Vergelegen Sauvignon Blanc 2015, Gold Medal Winner
San Francisco International Wine Competition 2015
Vergelegen Sauvignon Blanc 2015, Rated 89
"a nettle nuance, this & the flavors showing the cool terroir, vibrantly fresh, staying long after the glass is empty." Platter's Guide to South African Wines 2015
Vergelegen Sauvignon Blanc 2013, Gold Medal Winner
Lyon International Wine Competition 2014
Vergelegen Sauvignon Blanc, 2007
"The nose of grass, pepper and figs rolls into a fuller, rounder collection of fresh fruit and gooseberry flavors in this elegant wine. While the character is serious, the wine is lifted by a poised acidity." Wine Enthusiast, June 2008
Vergelegen Sauvignon Blanc, 2006, 5 Stars
"Precise aromas of lemon ice, grapefruit peel and melon. Juicy, dry and pure, with sharply delineated flavors of passion fruit, grapefruit and pepper…A note of dusty minerality runs through the wine from beginning to end." Stephen Tanzer, International Wine Cellar
Vergelegen Sauvignon Blanc, 2006
"Mildly aromatic with fig, wild herb, and mineral notes. Light bodied and crisp with a hint of bitter almond on the finish." Sante Magazine
BELLEVUE
Bellevue Estate PK Morkel Pinotage, 2006 Outstanding
"…Upfront fruit, opulent in its impressive currant density." Platter's Guide to South African Wines 2009
Bellevue Estate Tumara Pinotage, 2006 Excellent
"…brilliant depth and elegance…olive, mint and cassis notes and sweet fruit leading to a long fresh finish." Platter's Guide to South African Wines 2009
Bellevue Estate Tumara Pinotage, 2006
"Medium bodied but firm and powerful with aromas and flavors of dark fruit showing notes of tar, smoke, and chocolate." Sante Magazine
Bellevue Estate Tumara Pinotage 2005, Rated 87
"An instantly recommendable Pinotage, with soft, pretty aromas of berry and spice and a balanced, integrated overall flavor. It's approachable and full of juicy red berry that plays along with spice…" Wine Enthusiast, November 2007
Bellevue Estate Tumara Pinotage 2003, Rated 87
"This wine shows a healthy dose of oak with scents of vanilla and dill, but also a good amount of sour cherry. Full and smooth, with flavors of dark berry and cola…" Wine Enthusiast, March 2006
Bellevue Estate, Tumara Titan, 2002, Rated 88
"With powerful aromas of tobacco and menthol this earthy wine definitely pleases..In the mouth, red berry is muted by forest floor, tobacco and mint, and the wine coats the palate with some gritty tannins. Finishes smooth…" Wine Enthusiast, May 2006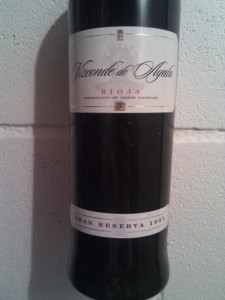 Vizconde de Ayala Reserva 1994, Rated 84
"Typically dry and earthy, with aromas of wet leaves…The palate features tart red fruit… spice on the finish…" Wine Enthusiast, August 2005
Vizconde de Ayala Crianza 1999, Rated 81
"…flavors of cherry skins and lemon juice…." Wine Enthusiast, August 2005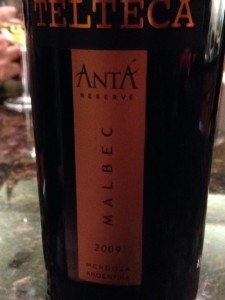 Telteca Anta Reserve Malbec 2009, Rated 88
"Balsam wood, pencil eraser, coconut, anise and blackberry aromas share the bouquet. It feels linear and a touch scratchy, with roasted berry and toasted flavors that steer toward bacon. It feels a little gritty and short on the finish." Wine Enthusiast, November 2012
Telteca Anta Reserve Malbec 2006, Silver Medal Winner – Best in Class
International Wine and Spirits Competition UK 2010
Telteca Anta Reserve Malbec 2004, Gold Medal Winner
Selections Mondiales des Vins Canada 2007
Telteca Anta Reserve Malbec 2004, Rated 92
The Wine Advocate Robert Parker
UMA Coleccion Cabernet Sauvignon 2008, Silver Medal Winner
VINANDINO 2009
UMA Syrah 2006, Rated 84
"…if you enjoy plum, cherry and currant flavors along with pretty good mouthfeel and balance, you'll get it here…." Wine Enthusiast, October 2007
UMA Torrontes 2006, Rated 84
"Soft, lightly fragrant and peach…on the nose. The palate offers…a mix of melon and lychee…" Wine Enthusiast, August 2007
UMA Chardonnay 2006, Rated 81
"…Chardonnay-Semillon blend…tempts you early with fresh, lightly floral aromas…" Wine Enthusiast, August 2007