Chelsea Carmenere is estate bottled in Chile's Maule Valley by vintner Vina Tinajas located 160 miles south of Santiago, the capital of Chile. Carmenere thrives in the Maule Valley where the perfect growing conditions exist to nurture the Carmenere grapes grown to create this luscious wine.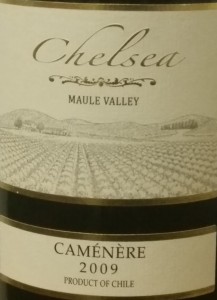 Varietal: 100% Carmenere
Viticulture and Vinification: The grapes grown to create this enticing Carmenere are hand harvested at their peak of perfection, crushed, vinified and aged in oak barrels.
Tasting Notes: Chelsea Carmenere is a bright fruity expression of oaked Carmenere with succulent flavors of black and red currants. Intense, rich and complex on the nose Chelsea's juicy fruit driven palate is balanced with a nice acidity.
Serving Suggestions: Enjoy Chelsea Carmenere with grilled meats including pork and veal, pasta with red sauce, eggplant or hearty stews.