Revelacion crafts tequila which preserves the true Agave flavors – a true homage to the soil that nurtures them. The result: crisp, flavorful award winning tequilas.
Revelacion Anejo – The agave notes are masterfully complemented with aromas obtained from its 18 month aging in white oak barrels where it obtains flavors of caramel, butterscotch, honey, tobacco and leather. A complex tequila, Revelacion Anejo can be enjoyed on the rocks, as a mixer or simply enjoyed straight up where it's smooth rich texture delivers a luscious finish.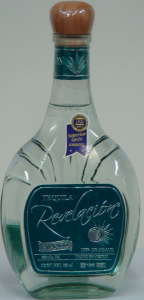 Revelacion 80 Proof – The tequila for connoisseurs. This rare and exclusive spirit is Revelacions tribute to the agave plant. Undiluted after distillation and precisely crafted to exceed the expectations of the most discerning tequila experts, Revelacion being 100 percent Blue Agave expresses an authentic yet delicate characteristics of the agave plant. Extraordinary balance delivers a surprising experience in the mouth that offers tequila aficionados' the purest expression of agave.
Revelacion Reposado – An outstanding tequila with the clean floral aromas of the agave. Hints of dried herbs, vanilla, almond, oak, honey, sweet melon and a touch of butterscotch result from its 10 month aging in white oak barrels. Revelacion Reposado delivers a superb silky finish. May be enjoyed neat, chilled or mixed.
Click logo for website